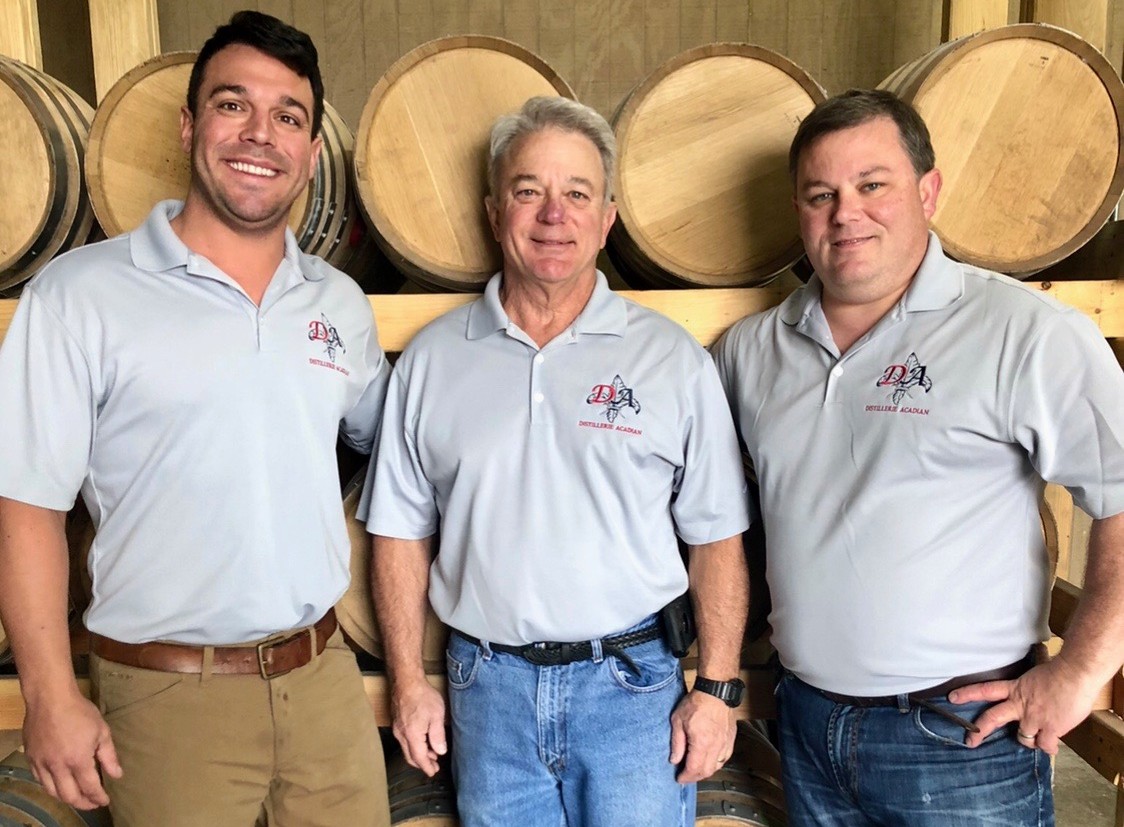 Laissez les bons temps rouler
"Let the Good Times Roll" - This is our philosophy – the way we approach life in general. We all have hard and difficult times, such as when we began this new business venture.  
The difficult times neither deterred us nor dampened our spirits. This outlook, "Let the Good Times Roll," helps us to rise above the difficulties when we focus on the real reason we started Distillerie Acadian - purveyors of Louisiana small batch liquor.
We began this as a family adventure, something we decided we could do ourselves and be proud of, holding the family together while making excellent distilled spirits from our own hard work, skill and determination.  
Our Story
This journey first began about 2012 when Steve Mestayer and his two sons, Jonathan "Jeep" and Philip, were visiting a friend who had previously made "aged moonshine" at his home, for his own consumption.  At the time, there was a popular television series on called "Moonshiners", which depicted mountain men who made their own moonshine. Philip became very interested in the idea that we could make and sell our own whiskey.  Jeep was as enthusiastic, so Steve began looking into the licensing (Federal and State) requirements. Those governmental regulations did seem to be pretty daunting, but for Mestayer's, this was no big hill to climb.
With all that knowledge ready to burst out, we began our first distilling in late Spring of 2017, and our Cajun's Cut™ Bourbon has been aging since then in new, charred white oak barrels.  The most anxious times were those first two years following the barreling, hoping and expecting a great tasting product, but not really knowing until the first taste test – Thank God that first test, after two years of nervously waiting, was FANTASTIC! The hard work paid off, we were recipients of many blessings, and we are now ready to share the 'Good Times" with all.
Our Process
Beginning with a modest budget, and coming to the conclusion that we would have to make our own equipment, we started slowly and deliberately.  Luckily, Philip is a whip at welding steel, stainless steel, copper, and aluminum, and after what seemed like a fairly short period of time, we had the equipment ready, the licensure completed and the desire to push onward.
All the while, Philip, who is also our Master Distiller, read almost everything available on making whiskey and bourbon, the mashing process, the use of enzymes and various yeast products, distillation issues, etc.
We built our own mashing, fermenting, and distilling equipment. We decided to use a unique blend of four grains (corn, wheat, barley and rye) for our spirits' recipes. 
Most all of the processes of crushing grain, mashing, distilling, barreling, bottling and labeling are done by hand. Of course it is a long and tedious process, but the end result is definitely worth it - producing small batch liquors and spirits we can be proud of. 
Meet the Team
Distillerie Acadian is a true family affair. Everyone chips in when they can, with the talents and knowledge they bring to the table. It's not always easy working together, but it's always worth it
Steve Mestayer
Steve was born in New Iberia, Louisiana to Ray and Louise Mestayer. He was one of seven children. He has practiced law in New Iberia since 1974, just as his father, Ray, and grandfather, Otto, did. He is an Eagle Scout, as was his father and four brothers.  He is married to Adrienne Escuriex, also from New Iberia, and who is one of nine children. (It's safe to say that Steve and Adrienne come from good, Catholic families). Steve handles orders, marketing through the company's wholesaler, Select Wines, deliveries, and regulatory matters.
Jeep Mestayer
Jeep, his wife Kelly, and their two children - Jonathan and Katherine, live in the capital city of Baton Rouge putting them in close proximity for cheering on their beloved LSU Tigers. Both Jeep and his wife are graduates of LSU. Their son broke the mold this year when he walked on the football team at Tulane University in New Orleans. Jeep has worked in the nuclear power industry for almost 20 years. On weekends, he travels to Iberia Parish to help, hands on with the distillerie. He also handles the federal and state filings and marketing for the company.
Philip Mestayer
Philip, his wife Jessica, and their daughter, Peyton, and son, Elijah, live just a few miles away from the distillerie in Youngsville. The short distance from home is ideal for Philip since he is our master distiller, handling all aspects of the distilling processes.  Philip is also our "equipment guy," having researched, designed and welded much of the distillery equipment currently in use. He's on hand most weekends with Steve and Jeep doing whatever needs to be done to keep products on the shelves. Philip also helps with marketing and sales for the company.
Adrienne Mestayer is the family's matriarch, general problem solver extrodinaire and keeps the books straight for Distillerie Acadian.
Holly Thubron built and manages the distillerie's website and web presence, and also helps out with other marketing efforts for the Distillerie.
Stephanie Thalji manages the social media outreach and engagement on multiple channels, and handles other marketing efforts for the Distillerie.
Want to know where to buy our prouducts?
Distillerie Acadian's delicious small batch liquors and spirits are hitting the market fast. Check out our handy locater tool to find out where you can find them in a store near you.